Reports are that Oxford philosopher Derek Parfit died last night. Parfit's philosophy is not well known or appreciated in my field of intellectual property, which is only just starting to absorb the work of John Rawls. This is something I am working to change, as the questions Parfit raised about our obligations to one another as persons–and in particular our obligations to the future–are deeply implicated in the policies intellectual property law is supposed to serve. Indeed, when I learned about Parfit's death, I was hard at work trying to finish a draft of a book chapter that I will be presenting at NYU in less than two weeks. (The chapter is an extension of a presentation I made at WIPIP this past spring at the University of Washington.)
Parfit's thoughts on mortality were idiosyncratic, based on his equally idiosyncratic views of the nature and identity of persons over time. I must admit I have never found his account of identity as psychological connectedness to be especially useful, but I have always found his almost Buddhist description of his state of mind upon committing to this view to be very attractive. So rather than mourn Parfit, I prefer to ruminate on his reflections on death, from page 281 of his magnificent book, Reasons and Persons: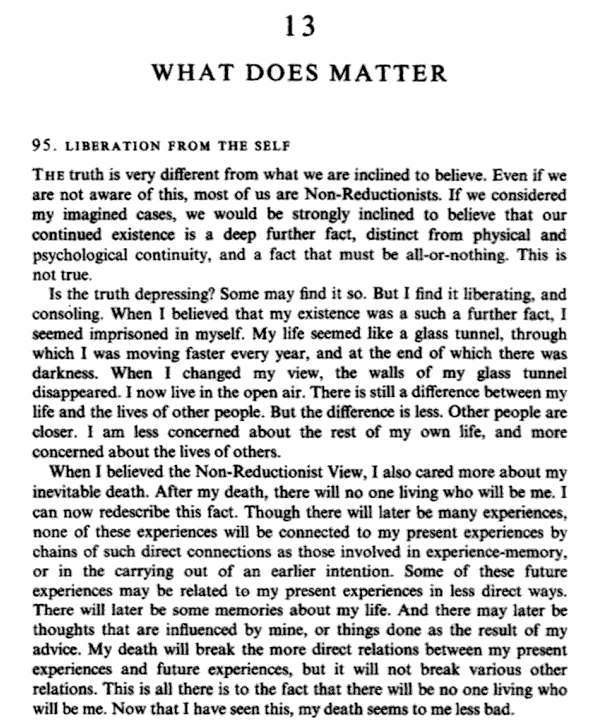 If Parfit is right, then my own experiences, and those of others who have learned from his work, give us all reason to view the fact of his physical death as less bad than we might otherwise–and to be grateful. I can at least do the latter.