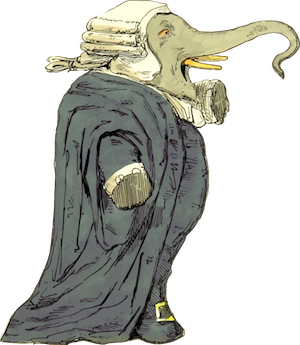 Over the past month, as the user experience on Twitter changed under new management, millions of people have migrated to the decentralized social media platform Mastodon. About three weeks ago, in an effort to facilitate that transition for my own professional community, I set up a Mastodon "instance," or server, specifically for legal academics: the Lawprofs Mastodon Instance. I'm not an experienced sysadmin, so there were a couple of bumps along the way, but the server is now running smoothly with over 300 user accounts and rising. The earliest rapid growth phase, during which I've acquired and configured the necessary back-end resources to host the instance and give it room to grow, is coming to a close, and I think it's time to take a more mindful approach to the governance of this community. So I'm issuing a call for volunteers to help set up policies and governance structures to sustain the community for the long term.
This is not (yet) a request for financial support. The costs (in money) of running the Lawprofs instance are modest, and I am happy to continue bearing them until more permanent governance and funding institutions can be established. There may be a time when Lawprofs members are asked to contribute financially to the running of the instance, but now is not that time. Rather, I am calling on the expertise of our community members to help transition the instance from my own personal project into a self-sustaining, self-governing community. The expertise needed lies in several areas. If you have expertise in any of these areas and are willing to give a little of your time to help the Lawprofs community lay its foundations, please contact me:
Entity Formation, Governance, and Funding:

At present the Lawprofs instance is, in essence, a group of accounts in my name at various online service providers based on the East Coast of the United States. Apart from the possibility of personal liability that I would like to avoid, this arrangement gives me sole authority and responsibility for managing the instance, which is not a role I have any desire to maintain. So we need some help either standing up appropriate legal entities to take responsibility for managing and funding the instance (and ensuring general legal compliance), or else we need to find a hybrid solution (such as the Open Collective project used by the journa.host Mastodon instance, or an institutional home in the legal academy or one of its governing bodies) to manage those aspects of the community's existence. We will also need people willing to take responsibility for contributing to the management of the instance going forward.

Content Moderation:

I set out a list of basic rules concerning content on the site when I founded the instance, and I defederated a number of notoriously abusive instances at the outset based on my own quick review of the #FediBlock list and the mastodon.social moderated server list. But as the community matures and forms connections with other instances we may want to revisit those choices, and we will need a more well-thought-through set of rules governing permissible and impermissible content on the site. We will also need volunteers to apply those rules when posts, users, or instances get flagged for moderation. (To give a sense of the scope of this task, we have had exactly two requests for moderation in the first three weeks of the instance's existence; one involving a post by a member of our instance, and one involving an impersonation account on another instance). This aspect of community governance particularly requires evaluation from diverse perspectives, and I am hopeful that we will receive input from Lawprofs of various backgrounds on questions of content moderation.

Privacy Policy:

Our privacy policy is currently the off-the-rack policy that is distributed with the Mastodon server software. It's a fine standard privacy policy, but there may be issues that it does not cover, or that our community might want to address differently. Because our servers are based in the United States but serve accounts all over the world, this is an issue where input from Lawprofs from different jurisdictions will be especially helpful.

Intellectual Property (IP) Policy:

One of the first steps I took upon founding the instance was to register as a DMCA agent and set up a Section 512 notice form to insulate myself from liability for copyright infringement by users who post on the instance (or whose posts on other instances are stored on our server). This is obviously primarily a US-oriented solution, and incomplete as a matter of IP policy (it does not, for example, establish in advance a policy governing repeat infringers). We must develop and implement more comprehensive IP policies to reduce the risk of liability for IP infringement in all the jurisdictions that might take an interest in activities by our users.

Protection Against Child Exploitation:

This is not an issue I expect to require much attention given the user base of our instance, but we should develop policies and procedures to deal with the possibility that material posted on our instance (or stored on our server after being posted on other instances) might violate laws against child exploitation or trigger reporting requirements under those laws.

Other Terms of Service/Fair Trade Practices Issues:

There may be other terms or disclosures that an online service provider such as Lawprofs would be well-advised to include in its governing policies. Lawprofs with expertise in online terms of service in various jurisdictions could be a big help in raising issues that aren't already addressed elsewhere.

Back-End Management/Technical Expertise:

Anyone with experience running a web server or with expertise on data security and best practices for a social media site could be a big help in sharing admin responsibilities with me for the servers themselves.

Membership Policies:

I have developed a basic set of membership policies for the Lawprofs instance over time as people have asked to register accounts, both to maintain the thematic focus of the community and to manage costs and the strain on back-end resources. The community may wish to change these policies going forward. For present purposes, I have adopted four rules-of-thumb:

Members should generally be full-time legal academics; an affiliation (though not necessarily a permanent affiliation) with a law faculty must be provided and verified as a precondition of registration.
Adjunct faculty may register but are advised to first consider registering with other law-oriented instances that might be better suited to legal professionals who also happen to teach (such as legal.social, law.builders, and esq.social).
Graduate students and recent graduates may not register unless they are already in a full-time post-degree program such as a teaching or research fellowship or Visiting Assistant Professorship.
Non-faculty staff at law schools and faculties may not register accounts, but institutions themselves (schools, departments, centers, etc.) may do so, and institutional accounts may be managed by non-faculty staff.
Those are the issues where the Lawprofs community can use your help. Again, if you think you have relevant expertise on any of these issues, and are willing to give a little of your time to help set the community up for the long term, please contact me.
In the meantime, you can find me on Mastodon.